Holsinger's debut novel, A Burnable Book, hits bookstores everywhere today and this is one book that merits close attention. A literary thriller that forces the reader to pay close attention and hang on for the ride, A Burnable Book takes us to Chaucer's London - 1385 - where a heretical book has gone missing and everyone from the highest nobility to the lowest prostitute wants to find it, albeit for different reasons.
John of Gaunt, Duke of Lancaster and Uncle to King Richard II
Narrated by John Gower, a close friend of Chaucer and notable English poet himself, the importance of the missing book is gradually revealed throughout the novel. From the treason-tainted halls of John of Gaunt and his infamous mistress Katherine Swynford waft the seeds of rebellion against the newly-crowned English King Richard II, where the missing book could provide information that could elevate Gaunt to the crown or destroy him forever.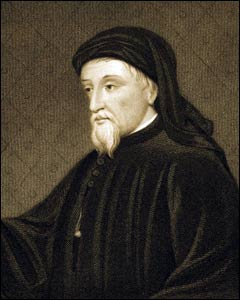 Chaucer
Poet Geoffrey Chaucer has his own reasons for desperately seeking the missing book but discerning those reasons is more difficult than navigating the back streets of 14th century London. Whatever his reasons, he is willing to manipulate anyone and everyone - risking lifelong friendships in the process - in order to get his hands on the missing book.
The book proves even more elusive when it accidentally falls into the hands of a common street prostitute - one smart enough to know what she has is valuable, even if she isn't entirely sure why. The chase is on.....and people are about to find out that their life is cheaper than a book.
The end result is a helluva ride through medieval London, thanks to Holsinger's intense knowledge of the period - he is a medievalist professor at the University of Virginia's English Department - which results the most fun a reader can have while receiving a history lesson. Nothing about this novel is spoon-fed; keep up or drop out of the game. But I can confirm that it is worth your while to keep up - this is one of the best historical thrillers I have yet to read. Smart, fast-paced, and requiring reader intelligence....a little slice of heaven right here. Highly recommended.
Publisher: William Morrow