As most of you likely know by now, A Reader's Respite has a thing for book awards. We love them. Even in genres outside of our comfort zone, we try to familiarize ourselves with at least some of the nominees and winners if only to expand our reading horizons. Most of the time, we feel rewarded by this experience.
Most of the time.
On Saturday, the Science Fiction and Fantasy Writers of America announced the winners of their annual Nebula Awards. And the winner for Best Novel?
As it happens, this is one novel that A Reader's Respite tackled last month. Well, if we're being completely honest, tackled and then threw against the wall and considered burning in it's entirety. Why? Because this novel was one of the most pretentious, ridiculous, downright AWFUL collection of incoherent sentences ever to be collected within the confines of a book cover.
While at first I was intrigued as the author introduces us to life on Mercury in the year 2312, the pages quickly turned into an information-dump where $10 words were substituted for perfectly good and understandable words. I shouldn't have to run to a dictionary or spend hours on the internet looking up things such as the pseudoiterative. Did we mention PRETENTIOUS?
Somewhere in this info-dump is supposed to be a love story. Our protagonists (a hermaphrodite from Mercury and a frog-type-person from one of the moons of Jupiter), however, are so bland and lost in the confusion that they never generate any kind of sympathy (or even recognition). Did we mention NO PLOT?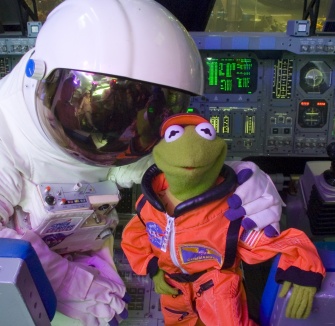 So why on earth (pun intended) do we find 2312 nominated for both Nebula and Hugo Awards this year? If we may be sold bold as to venture a guess: Kim Stanley Robinson. Oh, sorry, to be one of the cool kids one must refer to the venerated sci-fi writer as KSR. So far as we can tell, the man once produced a fairly kick-ass sci-fi book (Red Mars, and it was a trilogy). Since then he has settled his pompous ass down on the throne of sci-fi and contents himself with writing incoherent drivel that his minions (yep, those are the voters of the Nebula Awards) pretend to understand so as to remain part of the cool crowd.
So the next time you see some glowing review exalting the genius vision KSR creates in 2312, rest assured that in reality they, too, had no idea whatsoever what this freaking book was about. They're just hangin' with the cool kids.
And Nebula Awards? You minions can piss off. We will be searching out good sci-fi from the people really in the know: book bloggers.
Author: KSR
Pages: 576 nonsensical, plotless, thesaurus-reliant pages
Source: Library Copy (which explains why we didn't actually go so far as to burn it)
Rating: Really? Need you ask?